Introduction
Our Media Society is a creative hub that fosters innovation, imagination, and collaboration. With a passion for all things media-related, we've curated a space where aspiring photographers, skilled videographers, talented writers, content creators come together to learn, share, and grow.
As you can see from the picture, our society thrives on diversity, creativity, and a shared enthusiasm for media. We're not just a group; we're a family united by our love for visual expression and the power it holds in shaping narratives.
Our members, through their artistic lenses, capture moments that both inspire and inform.
Diving into the world of multimedia, we've celebrated numerous achievements, from gripping documentaries to captivating photo exhibitions. The Media Society stands as a testimony to the fusion of talent and innovation, nurturing a community of storytellers who ignite conversations and amplify voices; we're the creators of narratives that shape perceptions and connect us all.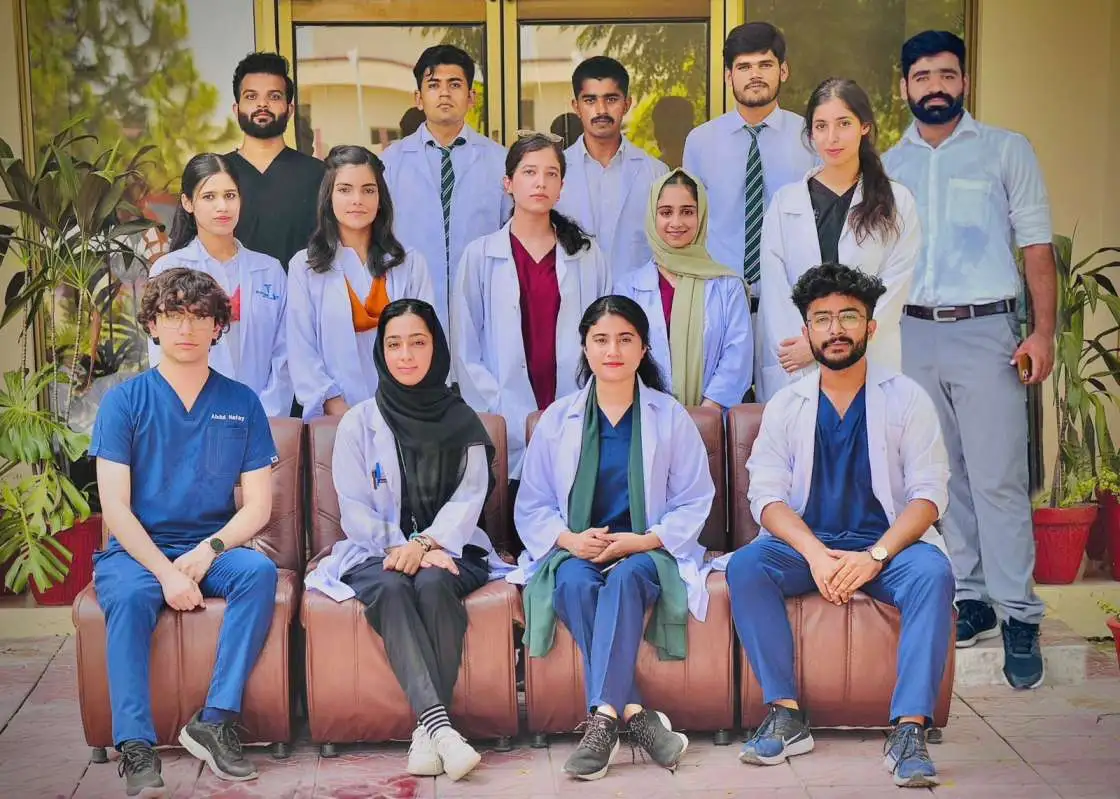 Objectives
The objectives of a media society can include promoting media literacy, fostering creativity, providing a platform for expression, and encouraging active participation.
Team Name: Sana Tahir
Position: President
Email: sanaaaatahir@gmail.com
Vision: The vision of the media society at Hitec Ims is to cultivate a vibrant community that celebrates the fusion of medicine and art. It aims to provide a platform where individuals can explore their creative talents, express themselves through various forms of media, and capture the intricate details that make their stories unique. The media society strives to inspire and empower its members to push the boundaries of creativity and make a positive impact through their media endeavors.
| Sr No | Name | Position | Qualification |
| --- | --- | --- | --- |
| 1 | Huzaifa Rahat | Vice President | 4th year MBBS |
| 2 | Nafay Qazi | Vice President | Final Year BDS |
| 3 | Fatima | General secretary | Final Year MBBS |
| 4 | Zoha Akhtar | Member | Final Year MBBS |
| 5 | Sara Irfan | Member | Final Year BDS |
| 6 | Hafsa Shahid | Member | Final Year BDS |
| 7 | Shayan Shahid | Member | Final Year MBBS |
| 8 | Iqra | Member | Final Year MBBS |
| 9 | Fatima Ali | Member | 4th Year MBBS |
| 10 | Areesha Akram | Member | 3rd Year MBBS |
| 11 | Areeba Amir | Member | 3rd Year BDS |
| 12 | Yusra Rehman | Member | 3rd Year BDS |
| 13 | Salman Ghafar | Member | 2nd Year MBBS |
| 14 | Saboor | Member | 2nd Year MBBS |
| 15 | Aieman Altaf | Member | 2nd Year MBBS |
| 16 | Ahmed Raza | Member | 2nd Year MBBS |
| 17 | Arsalan Khalid | Member | 2nd Year MBBS |
| 18 | Mohsin Gujjar | Member | 2nd Year MBBS |
| 19 | Hamna Rizwan | Member | 2nd Year BDS |
| 20 | Maryam Gulzar | Member | 2nd Year BDS |
| 21 | Huraira | Member | 2nd Year BDS |
| 22 | Roshan Sanghi | Member | 1st Year MBBS |
| 23 | Rao Danish | Member | 1st Year MBBS |
| 24 | Aima Adeel | Member | 1st Year MBBS |
| 25 | Laraib Fatima | Member | 1st Year MBBS |